Client Praise
Here are a few of the comments we've received about our exciting and lasting client work!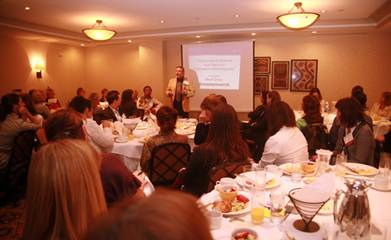 " Mark Gross, President of Leadership Services, offered a very useful and enjoyable program at our packed January National Association of Women Business Owners (NABOW) meeting on How to Lead and Motivate Your Team in a Performance-based Economy. One of the key points he made was that motivation is emotional, and that change requires leaders to support their team emotionally in all its forms--from enthusiasm to empathetic listening. That often requires leaders to overcome their fears in the face of the kind of the economic challenges we face today to motivate themselves in order to motivate their teams. "
Our thanks to Mark for a great presentation. To see more pictures of the event click here.
- The Santa Barbara chapter of National Association of Women Business Owners.
NAWBO.SB

"On behalf of nearly 200,000 managers, supervisors and executives in the federal government whose interests are represented by the Federal Managers Association ... "
read the whole letter in PDF >
- Darryl A. Perkinson, National President
Federal Managers Association
"I have been working with Mark Gross and LSL for almost 10 years now both in my current and past organizations. Mark has a unique and impactful way to assess and most importantly provide constructive leadership insight and development programs to executives and managers. His coaching style and insights, coupled with a strong business and pragmatic orientation results in actionable plans."
- Ben Lawrence, Senior VP Human Resources
Fosters Group (Beringer Blass Wine Estates)
"Mark Gross and his team assisted RCIM in structuring a multifaceted communications plan for our business. Some of the most valuable results were delivered though support from our sister companies in growing our business. The proof is in the 16 new resort management contracts negotiated in 1998....66% of the leads leading to these new opportunities came from our colleagues at the other RCI companies."
- Chris J. Van Ruiten, President
RCI Management, Inc.
"Leadership Services has a unique expertise in mentoring executive development. While you learn finance, organizational structures, strategic planning and many other things in college, where do you learn the day-to-day organization, reporting process, personal effectiveness and development of accountable people so critical in business today? I found myself with this challenge as an executive with 11 years experience and an MBA, but without an understanding of how to develop an accountable organization. Mentored by Mark Gross and Bill Terry, I learned to understand each person's motivation and create an environment to allow them to flourish and reach their potential."
- Don Favreau, Vice President
Shurgard Storage
"I've learned that it's the average performer that needs to be recognized. We know who these people are, but we need to learn how to express ourselves and recognize their efforts in a way that is meaningful to THEM!"
- Larry Hartman, Director of Safety and Facilities Management
JLG Industries
View a representative client list >