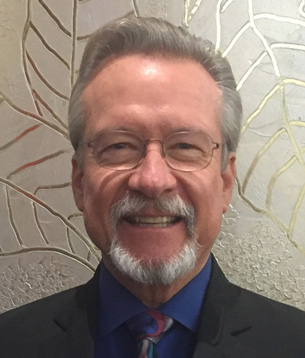 Leadership Services LTD. Newsletter - OCTOBER 2006
Greetings!
Hello to all our clients, colleagues, and good friends. I hope you had a great first half of the year and took some time for summer relaxation before the rest of the year swallows us up. I find that the early fall is a great time for measured reflection of the year passing and opportunity still ahead. It is too easy to have the year go by without acknowledging all our gifts, accomplishments, and challenges as they occur. Only by taking a brief respite can we feel confident that we are on course. Otherwise it's what the heck happened to 2006 and new year resolutions for 2007.
For us at LSL we blasted into 2006 with our eyes open and with anticipation for another rewarding and action packed year. Wow we are so blessed to be filled with great clients and an abundance of challenging opportunities to serve their leadership development needs. In addition to our continuing 1-on-1 coaching assignments we have had a significant increase in survey development and organizational assessment projects. In particular we completed a comprehensive internal customer service audit evaluating the performance of six departments for a large community bank and we repeated a 360 degree feedback project with over 50 candidates comparing year to year leadership development growth for a premier educational publishing firm. Our most recent success has been the launch of a leadership workshop series, "Leadership Labs", developed in partnership with one of our special clients, Wells Fargo Home Mortgage. The two day workshops are designed for small groups of managers are and conducted in a laboratory environment where participants are placed in a safe zone to engage in highly interactive real work discussions and simulations. The labs are facilitated by our client's senior management and supported by LSL and other select external coaches. Participant evaluations express an overwhelming value in the "Leadership Lab" experience compared to the traditional expert lecture format. Feel free to contact me for further information regarding this new and very exciting learning experience.
Thanks again to all of our clients for your continuing dedication to "High Performance Leadership Development". In this issue we feature Bill Terry, LSL Principal Leadership Coach who tells a story about learning, plus one of my book reviews I think you will enjoy. Stay in touch and keep on learning, loving, and living with greatness.

Respectfully, Mark Gross, President LSL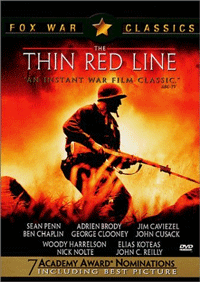 Utilizing the Movie "The Thin Red Line" as a Leadership Development Tool
At Leadership Services Ltd. we're always developing new and creative ways to challenge leaders to reach for ever higher levels of personal and team performance.
We recently had the opportunity to facilitate a teambuilding offsite using the movie "The Thin Red Line" as a vehicle for self-discovery. We chose this particular movie because in many respects it perfectly mirrors a workplace venue where leaders and team members are working under extreme conditions. It also provides a look into the dynamics and circumstances that can develop where a variety of leadership styles emerge in these high-pressure environments. Select characters in the movie displayed both strengths and weaknesses at various times depending on the scenario, providing for rich discussion relating to leadership and teambuilding.
One of the perspectives discussed was the basic primary focus for each of the characters. For instance, Captain Staros, played by Elias Koteas, was focused on being loved; 1st Sgt. Welsh, played by Sean Penn, was focused on being smart; Lt. Col. Tall, played by Nick Nolte, was focused on being successful; and Pvt. Witt, played by Jim Caviezel was focused on being a good person. As we viewed twelve specific scenes from the film totaling 30 minutes, the focus areas for each of the four characters became more and more apparent.
Captain Staros' focus on being loved made him look weak in the eyes of his superior and caused his decisions to be second guessed, ultimately leading to his demotion. Lt. Col. Tall's focus on being successful caused him to be insensitive to the needs of his men and ultimately left him a tormented soul at war with himself. First Sgt. Welsh's focus on being smart left him disillusioned and feeling trapped in his career; while Pvt. Witt's focus on being a good person demonstrated the positive impact he had on everyone he came in contact. This ultimately left Pvt. Witt at peace with himself when fear would have ravaged a lesser man.
While leaders may not typically think of their motivations in these terms, there are few leaders who are immune to these fundamental, albeit simplified, needs that can manifest in various behavior patterns, potentially hindering leadership and team performance. As offsite participants considered how these patterns may relate to their work or behaviors they have demonstrated in past times of high-stress, we discovered some key themes that immediately broke down barriers, especially those relating to the positive intent that we all work with, even when our behaviors don't necessarily reflect it so well.
Possibly most significant, as depicted by Staros, Tall and Welsh, when something bad happens to us, a loved one dies or a cherished client disappears, we are at risk of feeling victimized by circumstances beyond our control. Whereas, if our focus is on becoming the best person we can possibly be, we are more immune to external influences, and we allow for good things to happen. When we focus on doing everything we can to better ourselves, our colleagues and the circumstances, and we are in charge of what happens to us and often times around us, both at home and at work. In leadership roles we must keep business considerations and strategies in mind, and at the same time the time-honored principle stands: if leaders and team members take care to be in integrity and maintain good communication, often the rest falls into place. Of course, as offsite participants pointed out, this is also "easier said than done," especially when business pressures mount and time is short. But using our values as a guidepost, we can stay on course while expecting natural ups and downs along the way.
Consider another example of this, perhaps in a more unusual context: a recent newspaper article entitled "Leaving a Legacy That Goes Beyond Money". This article was about Financial Planners shifting their focus from the value of what clients own to what clients value, thereby connecting the strategies used to achieve a client's financial objectives with his or her morals, values and life goals. The Denver-based Financial Planning Association is filming a movie entitled "The Ultimate Gift" due out by Thanksgiving, promoting the idea that wealth is more than money.
Our quest at Leadership Services is to continue growing as people just as we assist our clients to grow as leaders and human beings. Utilizing the Thin Red Line as metaphor to discuss fundamental motivations gave participants a safe way to begin to identify and discuss their own strengths and challenges as well as another perspective into leadership roles and behaviors and teamwork.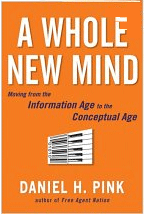 BOOK REVIEW - A Whole New Mind: Moving from the Information Age to the Conceptual Age ...
For this edition, I'm reviewing a book released last year, A Whole New Mind, by Daniel Pink. As a leadership coach, I am always looking for new ways to stretch my clients and help bring about learning that doesn't occur in every day work and play. Our routine daily experiences, indeed just the passing of time, naturally produces two common outcomes: developing deeply-rooted habits and learning how to avoid pain. The pain avoidance is a good thing. In fact, current research on Emotional Intelligence, often referred to as Emotional Quotient (E.Q.), reveals that learning from pain avoidance increases our E.Q. during our lives (up to the age of 60 or so).
Increased E.Q. balances the head and the heart. This is particularly important when pressures intensify and we'd otherwise express one or the other more ardently. We benefit by bringing empathy into situations where love or understanding is needed; likewise, we benefit by balancing or neutralizing our emotional reactions or blind acts of passion with level-headedness. For a coach, the question is: How can we set our intentions from one day to the next so that our head-heart dynamic does not become an "either/or" scenario? Both the head and the heart are equally important in any circumstance, if not to balance one another so as to avoid extreme behavior, then to bring a well-rounded, complete person to the situation at hand.
In A Whole New Mind, Pink conveys that over the past few decades business has valued left brain focused professionals, such as programmers who could crank code, lawyers who could draft contracts, and MBS's who could crunch numbers. Pink contrasts this trend with the need for a new "kind of mind" to adequately address changing times and new demographic patterns today. Without demoting the value of our refined abilities in logic, linear thinking, and computer-like efficiency, we need to develop greater aptitude in "high concept" and "high touch." These take the form of things like artistic design, story telling, symphony and synthesis, empathy, play, synthesizing and exploring meaning. Thus, this "kind of mind" would encourage and produce professionals integrating or utilizing right brain functions, such as inventors, creators and empathizers, consolers, big-picture thinkers, pattern-recognizers and meaning-makers.
In fact, Pink tells us, the shift towards "high concept" and high touch" aptitudes, while subtle, is all around us. Consider how "look and feel" trumps price and features for many consumers. In just about all facets of life, fashion and look are at least as important as function. For example, as Japanese personal electronics executive Toshiro Iizuka puts it, "Consumers now spend nearly as much on decorative (and nonfunctional) faceplates for their cell phones as they do on the phones themselves. In 2004, they purchased about $4 billion worth of ring tones."
How does this relate to leadership and professional development? In the book, Pink encourages us to develop the "high concept" and "high touch" aptitudes he refers to as six senses. One of these six senses, story, is critical because story helps us see that relying on an abundance of information and data is not enough to marshal an effective argument. Rather, to fashion a compelling and persuasive narrative, we need greater skills of communication and self-understanding. Story telling brings art and style into communications that can otherwise be cold or hardened with too much logic and fact. Another of the six senses Pink states is essential in our work cultures is meaning. Meaning relates to acquiring breathtaking material, strengthening our sense of purpose, transcendence and spiritual fulfillment. In other words, in company culture development, meaning is central to the question: "why do I work here?"
What I find special about this book is its integration of theory and practice. After each major concept, readers learn practical ways they can strengthen the right side of the brain. Additionally, Pink presents an abundance of references for additional exploration to support each concept. As many of you know, I am often heard saying, "Information is only as good as what you do with it. And if what you are doing with it is new and does not feel awkward to you, it is likely that no real learning is occurring. If this is the case, no one will notice and nothing will change."
A Whole New Mind will provide you with plenty of opportunities to feel awkward and to learn. Give it a read; I think you'll enjoy the book. I look forward to hearing about your personal adventures in learning.
Sincerely, Mark Gross
We are born for meaning, not pleasure, unless it is pleasure that is steeped in meaning. - Jacob Needleman